AACC Annual Scientific Meeting and Clinical Lab Expo
At the 71st AACC Annual Scientific Meeting & Clinical Lab Expo, you'll have the opportunity to connect with global leaders in clinical science, learn about cutting edge technology, and hear about vital research and changes that are shaping the future of laboratory medicine and health sciences.
---
Event Type
Tradeshow
Industry
Life Sciences
Date
Aug 6 - Aug 8, 2019
Location
Anaheim Convention Center
Anaheim, California
United States of America
Booth: #1192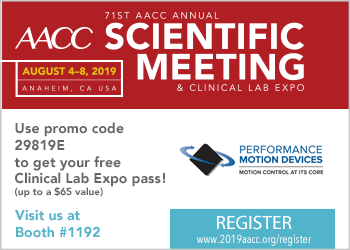 Visit us at AACC 71st Annual Scientific Meeting & Clinical Lab Expo in Anaheim, CA to learn how our motion control solutions can help you launch your lab automation, liquid handling, and other life sciences systems 2X faster. With more than 6.5 million motors controlled worldwide, Performance Motion Devices can help you meet your unique challenges with proven products, deep experience, and the latest technology.
Stay up-to-date! Follow #2019AACC.

Haven't Registered?
Use promo code 29819E to get a free expo pass. Register today >
Let's Connect
Interested in talking with a Performance Motion Devices representative about your next machine design project? Schedule a one-on-one meeting. We welcome the opportunity of hearing more about your equipment design and development challenges.

Event Type
Tradeshow
Industry
Life Sciences
Date
Aug 6 - Aug 8, 2019
Location
Anaheim Convention Center
Anaheim, California
United States of America