Ultra-efficient and Powerful Define New Family of Juno® Velocity and Torque Control ICs for Lab Automation and Healthcare Applications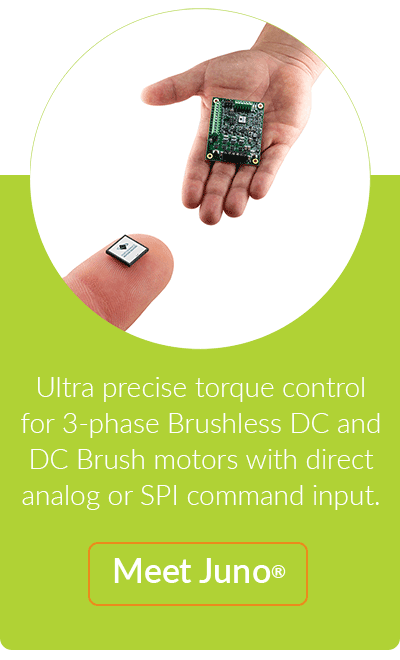 SLAS2018 and Westford, MA – Performance Motion Devices, Inc. today announced Juno® Velocity and Torque Control Integrated Circuits (ICs), the industry's first family of compact ICs for velocity and torque control capable of four-quadrant current control.
Designed for next-generation life science and healthcare applications, Juno ICs can profoundly improve the ability of design engineers to achieve greater motor efficiency, precise current control, and accurate velocity profiles. Ideal for servo motor applications in liquid pumping or high-speed motor control, Juno ICs deliver smooth, quiet, and efficient motor operation over a wide range of operating conditions for Brushless DC, DC Brush, and step motors.
The Juno ICs eliminate the need for design engineers to use multi-component solutions that demand significant amounts of board space and firmware development. These methods have limited speed control accuracy that results in noisy motor operation and significant heat generation. Engineers have also been required to create their own interface and safety protocols. Juno ICs ensure safe and optimal motor performance and include over current, over and under voltage, over temperature, current integration limits, and communication monitoring.
"The Juno IC's four-quadrant control allows precise ramp up and down," said Chuck Lewin, President of Performance Motion Devices, "There is no other velocity IC on the market today that offers this functionality. The unique combination of velocity and torque control with intelligent safety and performance monitoring delivers the ultra-efficient motor control that will help our customers improve development time and system safety."
The Juno ICs are compact and available in a 64-pin TQFP or 56-pin VQFN package, and measure 10 mm x 10 mm or 7.2 mm x 7.2 mm, respectively. The Juno ICs are easy to deploy with preprogrammed motion commands and on-board intelligence.
Juno ICs are ideal for Lab Automation and Medical Device applications. Lab Automation applications include liquid pumping, centrifuges, and laser scanners. Medical device applications include dialysis, heart assist-pumps, drug infusion, and ventilators. Juno IC's compact size, four-quadrant functionality, ultra-efficient operation, and ability to bring motor intelligence to customer systems make it ideal for any spinning motor application.
About Performance Motion Devices, Inc.
Performance Motion Devices, Inc. provides innovative and high-performance integrated circuit, board, and drive-based motion control solutions to OEMs and contract manufacturers around the globe. With over six million installed axes, Performance Motion Devices has the motion control expertise to simplify designs, lower production costs, and risk, and enable customers to bring their products to market quickly. Performance Motion Devices products are used to control DC Brush, Brushless DC, and step motors in the medical device, laboratory automation, robotics, packaging, 3D printing, entertainment, and semiconductor automation markets.
Contact Information:
Pam Gazley
Digital Marketing Manager, Performance Motion Devices, Inc.
+1.978.727.8807
Contact Us