Juno Velocity Control ICs deliver breakthrough velocity control of 3-phase Brushless DC and DC Brush motors
Westford, MA: Performance Motion Devices, Inc. (PMD) today announced the availability of Juno® Velocity Control ICs, new members of PMD's Juno Motion IC family providing advanced velocity control of 3-phase Brushless DC and DC Brush motors. Juno Velocity Control ICs represent a price to performance breakthrough with features such as PI (proportional, integral) velocity loop control, programmable velocity estimation, dual biquad filtering, shunt regulation, deadband filtering, FOC (Field Oriented Control), and more, yet being offered for $23 in quantity.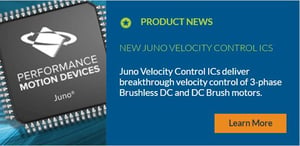 Juno Velocity Control ICs are ideal for a wide variety of applications including spindle control, centrifuges, peristaltic pumps, laboratory automation, packaging automation and more. They are available in a 64-pin TQFP package measuring 12x12 mm and operate at 3.3V.
"To satisfy the call for greater efficiency, smoother motion, and less heat generation, older BLDC motor control approaches are giving way to sophisticated algorithm-based techniques. Our design philosophy for the Juno IC family was to bring a new generation of intelligent capabilities to today's spindle, pump, vehicle, and centrifuge control applications. The response has been incredible, and it shows that dedicated ICs executing advanced algorithms is the path forward for next generation motor control" states Chuck Lewin, Founder and CEO of PMD.
Features and benefits of Juno Velocity Control ICs include.
3-phase Brushless DC and DC Brush control
Cascaded velocity loop, current loop control
Field Oriented Control
High/low switching bridge amplifier control signals
Leg current sensing for minimum noise
Torque mapping
Performance trace with filtering enables adaptive control
Long term motor & gear train performance monitoring
All Juno Velocity Control ICs are available immediately and are priced from $23 depending on motor type controlled and quantity. Juno Developer Kits start at $195. For more information on Juno Velocity and Torque ICs, visit pmdcorp.com/juno.
About Performance Motion Devices
Performance Motion Devices, Inc. is a world leader in motion control technology for life sciences, robotics, and industrial automation. PMD delivers a broad range of advanced electronic motion control products including integrated circuits, digital amplifiers, digital drives, and boards to a worldwide customer base. With over 6.5 million motors controlled by PMD solutions, they distribute products to manufacturer's and OEMs around the globe.
For additional information and photos, please contact:
Pam Gazley
Performance Motion Devices, Inc.
+1.978.727.8807
pgazley@pmdcorp.com