Spotlight on Innovation: 2022 Engineers' Choice Awards
Control Engineering announces the best automation, control and instrumentation products in the 19 categories of the annual Engineers' Choice Awards program.
As posted by Control Engineering
The 35th Control Engineering Engineers' Choice Awards shines a light on 19 categories of control, instrumentation and automation products, revealing the best of those introduced in 2021 as chosen by the Control Engineering print and digital audience. Review the winners and honorable mentions here to see if these innovative hardware and software products can help resolve some of your most pressing problems.
Also, join us in congratulating these technological innovators. Let them know you learned about their solutions in Control Engineering, and tell them what problems you need to resolve next. Their continuous improvement ensures that manufacturers, machine builders and automation system integrators can achieve the levels of agility, efficiency and effectiveness necessary to compete – and win – in today's global economy.
A total of 72 finalists from 48 companies were listed on the ballot for evaluation. Automation professionals from Control Engineering's subscriber lists – all of whom are responsible for or influence technology purchases, or have hands-on day-to-day interaction with the technologies in each category – then voted to identify the products they felt were the most exceptional based on technological advancement, service to the industry and market impact. The result is a short list of Engineers' Choice Awards winners and honorable mentions in 19 categories. A total of 1 grand winner, 19 winners and 22 honorable mentions were named for 2022.
Click here to see the full article and list of winners.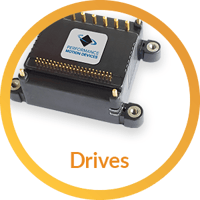 N-Series ION Digital Drives combine a single axis Magellan IC and a high performance digital amplifier into an ultra-compact PCB-mountable package. In addition to advanced servo and step motor control, N-Series IONs provide S-curve point to point profiling, field oriented control, downloadable user code, general purpose digital and analog I/O, and much more. With these all-in-one devices building a custom controller board is a snap, requiring you to create just a simple 2 or 4-layer interconnect board.