Are you looking to maximize accuracy, smoothness, and speed of microscope X-Y stage positioning? This use case explains how you can improve motion positioning with dual-loop control and S-curve motion.
Application Challenge
Microscope X‐Y stages need fast, smooth, and accurate motion for highest performance. In addition, you want to use the most cost-effective hardware, and software, that can get the job done. Motion control techniques are available to achieve these goals include dual-loop encoder configuration and S-curve motion profiling.
Application Considerations
2 independent servo motors
Multi‐axis point‐to-point
IC (chip) or board (card) based

Motion Control Solution
The diagram on below shows an all‐in‐one motion control IC design utilizing a Magellan® motion control IC. This positioning IC connects to two motors and four encoders: one rotary encoder on each motor, and one linear encoder on each axis.
Motion Control Components
Brushless DC motor w/ encoder feedback
Rotary encoder resolution needs to be high enough to allow for accurate velocity control. This depends on the ratio between rotary and linear position. 1,024 counts/rotation or less is typical.
Custom designed card using Magellan® MC58420 IC and two IC-based Brushless DC motor amplifiers
Rotary encoder resolution needs to be high enough to allow for accurate velocity control. This depends on the ratio between rotary and linear position. 1,024 counts/rotation or less is typical.
Lead screw‐based linear stage with linear encoders on each axis
Linear encoders translate directly to the final positioning accuracy and should be at least twice the desired resolution required for the application.
Dual Encoder Configuration
To maximize positioning accuracy, a dual encoder configuration (dual loop control) is used. This powerful technique allows one encoder (on the motor) to be used to stabilize the motion, while the second (on the stage) is used for positioning accuracy, with all of the control details handled by the Magellan IC. Dual‐loop corrects automatically for mechanical errors from backlash, lead screw or table assembly non‐linearities.
S-Curve Motion Profiling for reduced vibration
Adding S‐curve motion profiles can substantially reduce vibration over trapezoidal profiles. Often, only a small amount of "S" (transition between acceleration and no acceleration) can substantially reduce induced vibration. The form of the S‐curve will depend on the desired performance required. For X‐Y stages that involve liquid transfers, or fragile material that should not be jostled, it would be appropriate to choose an S‐curve profile that spreads the acceleration transitions out as far as possible, thereby maximizing smoothness of motion. Other loads can use a shorter "S" period. Magellan can also provide trapezoidal, velocity contouring, and electronic gearing motion profiles as alternatives to s‐curve profiles.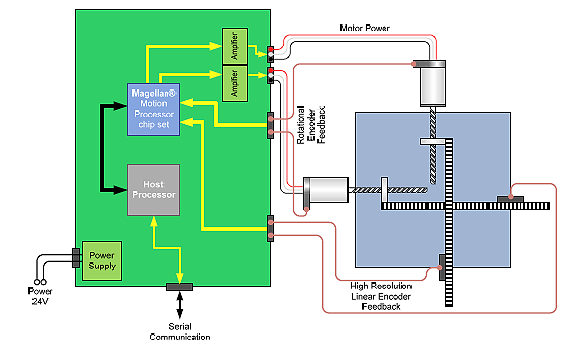 The Figure above illustrates the motion control IC and connections needed to implement a precision X‐Y stage controller. This system could also have been constructed using other PMD Corp. products such as a Prodigy® Machine Controller which allows for turnkey motion control across single or multi-axes.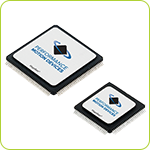 The Magellan® Family of Motion Control ICs provide high-performance chip-based motion control for Brushless DC, DC Brush, and Step motors. Magellan motion control ICs are available in 1, 2, 3, and 4‐axis versions. They are designed for demanding and precise applications such as this microscope X‐Y stage application, and other scientific instrumentation challenges.
Want to learn more? Contact our customer support team today for more information, including details on Developer Kits and application support. We would like to assist you in improving your motion system.
You may also be interested in: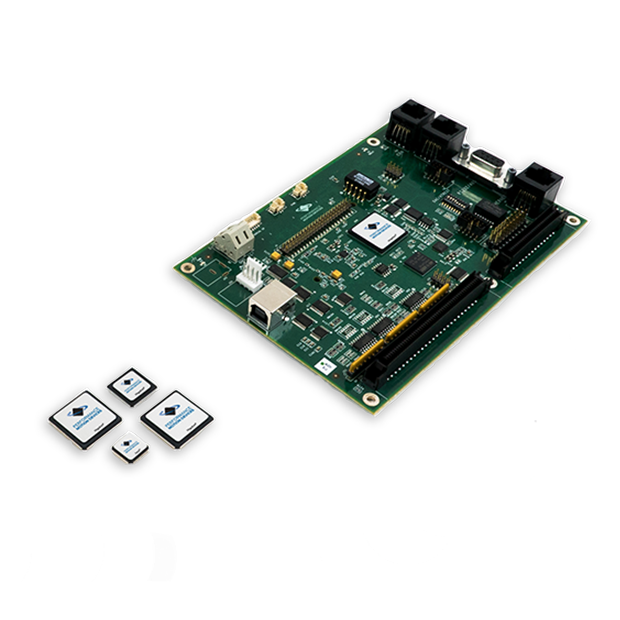 Stay ahead of the competition.
If your existing equipment needs a performance boost or if you need to develop a new product in the shortest development time possible, learn about motion control solutions from Performance Motion Devices.